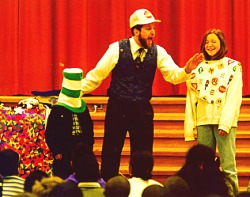 Michael S. Tulkoff, a.k.a. "Magic Michael Tulkoff," began performing magic for youngsters in 1974. Professionally, he is particularly proud of being the past President of the Society of American Magicians Chapter in Baltimore. The S.A.M. is the world's oldest professional magician's organization with more than 250 assemblies (chapters) around the globe. Michael has performed within the ancient walls of Jerusalem to the shores of the Potomac River in Washington, DC and as far north as the capital of Copenhagen, in the Kingdom of Denmark. He has been published on a number of occasions in international professional magicians' publications. Michael volunteered regularly at Johns Hopkins Hospital in Baltimore beginning in 1994 because he believes in giving back to the community and that the good you do as an individual effects goodness in the world.

He moved his talents, and his family, to Israel in 2001, which include wife, Debbie, married in 1987, and their children. Since arriving in Israel he has appeared on Israeli educational television, radio and in top newspapers.

Prior to their move, Magic Michael ran a successful children's educational entertainment business performing hundreds of his award winning Board of Education approved programs annually serving elementary schools, day care centers, libraries, shopping malls, retail establishments, civic organizations et al throughout Maryland, Washington, D.C. and Northern Virginia. All this in a six day week since as an observant Jew he does not work on his Sabbath. His corporate clients include Border's Books, Giant Food Supermarkets, Barnes & Noble, the US nationwide Westfield Shopping Towns Corporation and various malls.

Michael performs in English, Hebrew and Spanish. His growing Arabic, Russian, Georgian and Amharic further aid in his professional role as Israel's only Medical Magician as he cares for his patients. Michael's goal is to "make a difference in the lives of others for the good and to build for us a better, trusting future. The children and their families are where to begin."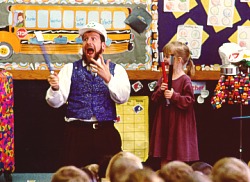 Michael most enjoys his role as educational entertainer. In addition to his theme based performances, he custom tailors programs to the needs of a wide variety of audiences. Michael's shows are filled with comedy and humor, self-esteem boosting action, lots of volunteers, and a safe and friendly atmosphere. Michael does not condone the use of, nor does he utilize, dangerous props like fire or knives.

His family entertaining includes festivals, corporate events, carnivals, shopping malls, and special events.

Society of American Magicians Magazine




Cover Story


Medical Magician
John Moehring
September, 2006
Click Here to read the whole article in PDF format
By the Society of American Magician and reproduced here
with permission of the S.A.M.
For information concerning the organization:



The Jewish Week


Do you believe in magic (Michael)?
February, 2007
Click Here to read the whole article in PDF format

Baltimore Jewish Times




Cover Story


Healing Magic
Sarah Bronson
NOVEMBER 04, 2005
Jerusalem
Click Here to read the whole article in PDF format

Making Medical Magic
Judy Siegel-Itzkovich, Health and Science Reporter,
Nov. 21, 2004
Click Here to read the whole article in PDF format

Award Winning Documentary


"MAGIC(s)"
By Todd Felderstein, Director www.MagicsDocumentary.com



Haaretz, Israel's Leading Newspaper


Laughter and magic; the best medicine
By Charlotte Halle
Friday, January 31, 2003
Click Here to read the whole article in PDF format